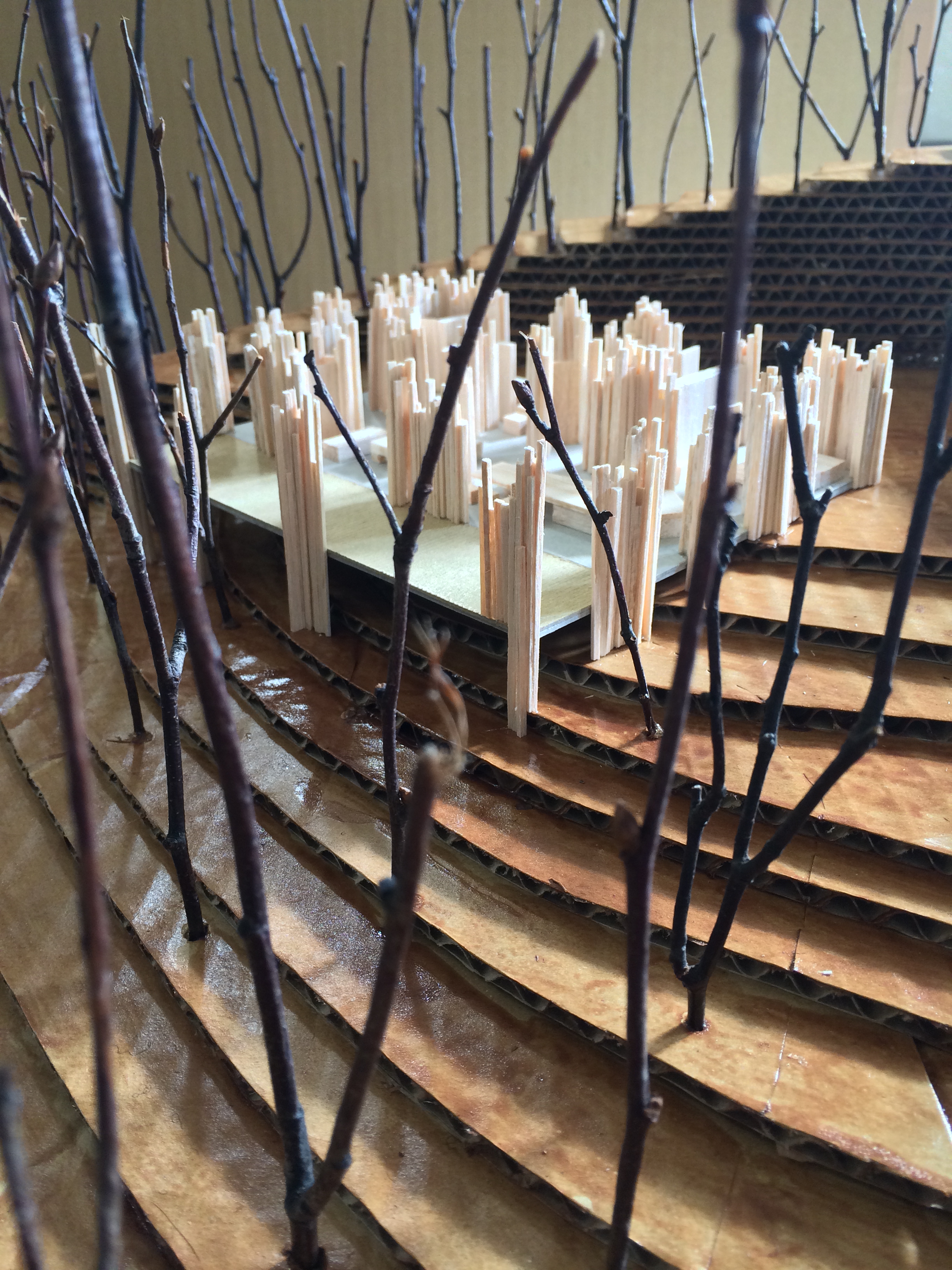 山の斜面に造成された南向きの平地に建つ、夫婦とその子供たちや親戚が集まる週末住宅の計画だった。敷地の目の前には背の高い木々が生い茂り、その幹や枝の間から明るい木漏れ日が差し込んでいた。

要望された個々のベッドルームや応接室、浴室などを一般的な壁で仕切ってしまうと、せっかくの素晴らしい環境に閉鎖的になってしまうが、柱と建具のみでは開放的すぎるため、柱でも壁でもない間仕切りのあり方はないかと考えた。その結果、木柱を集合させることで、1本の柱でもなく平坦な壁でもない、その両方が一体となったような構造体で空間をつくることを提案した。木の柱材を束ねることで構造体としての強度をもたせ、構造的に必要な部分や、空間的な抑揚をつける部分には多くの柱材を配置し、集合体の内部には収納スペースも設けた。

また施主の要望で斜面に向かって大きなテラスを張り出した。木々の中にぽっかりと空いた造成地にふたたび雑木林の密度がもどり、周囲の環境とゆるやかに繋がりながら、開放的でありながらも守られている居住空間を目指した。


It was a plan for a weekend house for a couple, their children and relatives to gather on a flat, south-facing lot built on a mountain slope. In front of the site, tall trees grow thickly, and the sun shines through the trunks and branches.



If the requested individual bedrooms, reception rooms, and bathrooms were separated by ordinary walls, it would have closed off the wonderful environment, but since it would have been too open with only pillars and fittings, I thought of a way to partition the rooms that was neither pillar nor wall. As a result, I proposed to create a space with a structure that is neither a single pillar nor a flat wall, but a combination of both, by assembling wooden pillars. By bundling the wooden pillars together, the structure is made stronger, and more pillars are placed where they are structurally necessary and where the space is inflected.



In addition, at the client's request, a large terrace was extended toward the slope. The density of the wooded area returns to the vacant lot in the midst of the trees, and I aimed to create a residential space that is open and yet protected, while gently connecting with the surrounding environment.





←back
Suzuko Yamada Architects, Inc. Tokyo, JAPAN