house g
house
unbuilt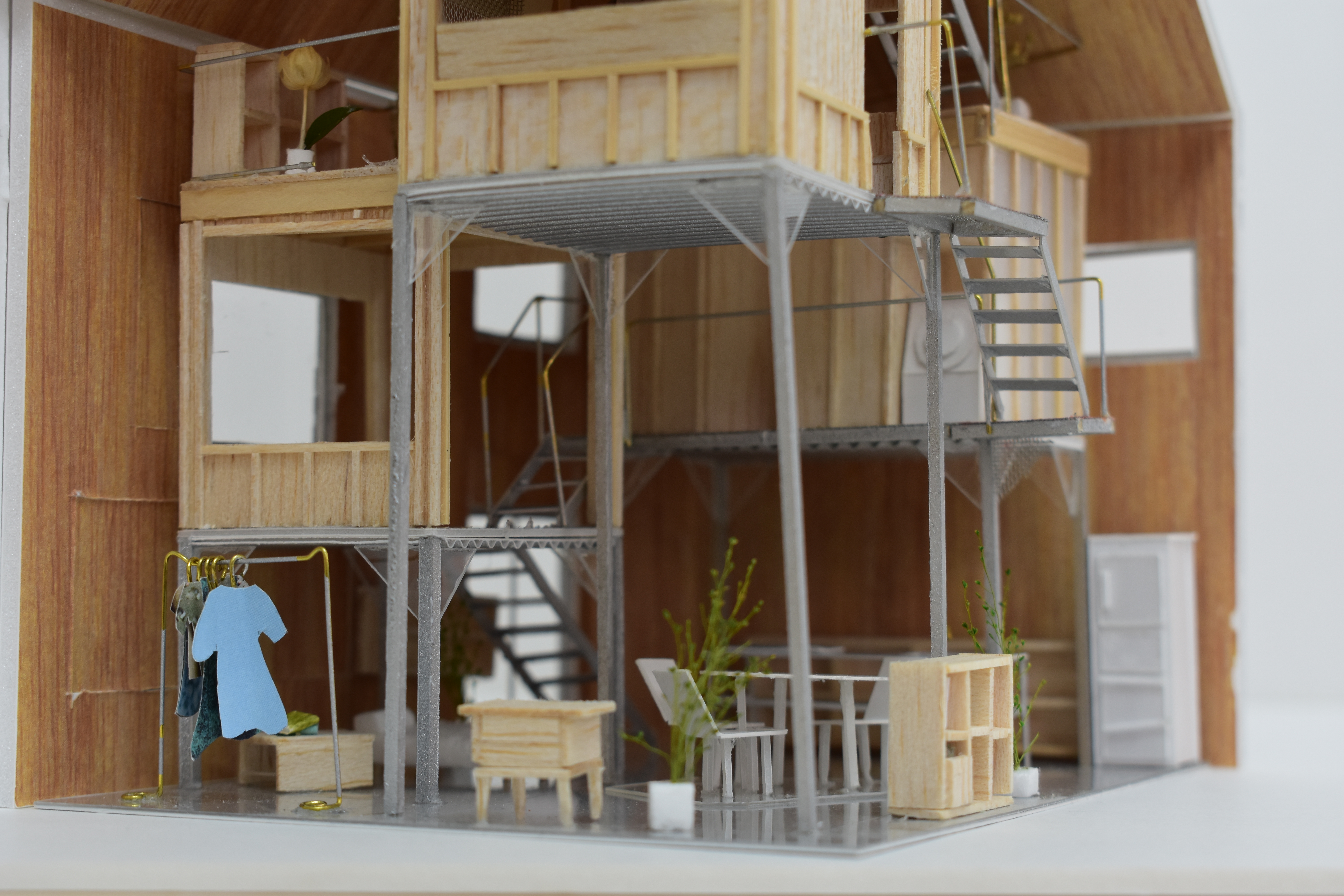 アイルランド民話『オシーン』は古くから伝わる神話の1つで、不⽼⻑寿の異界へ⾏った後、故郷に帰った主⼈公が、困っている村⼈たちを⼿伝おうと⾺から降りた瞬間に三百歳の⽼⼈になってしまったという話は、⽇本の浦島太郎とよく似たパラレルワールドの物語である。私たちの住む世界でも、実は複数の世界が同時存在している。1つの建築空間にも、少しずつずれた、または切り離された、パラレルワールドを埋め込むことができるのではないだろうか。それは1つの世界しかもたない建築となにが違うのだろうか。
- - - - - - - - - - - - - - - - - - - - - - - - - - - - - - - - - - -
東京、敷地の前後左右に隣地が接している典型的な旗竿敷地。その小さなポケットパークのような場所に、秘密基地のような住宅を作ってほしいという依頼だった。出張が多く生活が不規則な父親、仕事を持つ母親、保育園に通う息子、たまに遊びに来る祖父の4人のそれぞれの生活と時間が1つの家の中に同居する家を考えた。


サニタリー、寝室、フリースペースをコンパクトな個室としてまとめ、外壁と切り離し宙に浮かせた。暗くなりがちな1階はすべてオープンなプラン。上階からばらばらと落ちてきた柱や階段はどれを空間の切れ目と認識するかによって、形や大きさが自在に変わる。そこにいくつものパラレルワールドが生まれることを想像した。急な階段やキャットウォークでつながる個室空間同士もまたパラレルワールドの関係にある。
The Irish folktale of O'Sheen is one of the oldest myths, about a hero who returns home after a trip to the other world of immortality and longevity, and becomes a 300 year old man the moment he gets off the horse to help the villagers in need. The story of the hero returning home after a trip to another world of longevity is a parallel world story, much like the Japanese Urashima Taro. I wonder if it is possible to embed in a single architectural space a parallel world, slightly displaced or disconnected. What is the difference between this and architecture that has only one world?

- - - - - - - - - - - - - - - - - - - - - - - - - - - - - - - - - - -


Tokyo, a typical flagpole site with neighboring land bordering the site on both sides. The client asked us to build a house like a secret base in that small pocket park-like place. The idea was to create a house where the lives and times of four people could live together in one house: a father whose life is irregular due to frequent business trips, a mother who has a job, a son who goes to preschool, and a grandfather who comes to visit occasionally.


The sanitary area, bedrooms, and free space are combined into compact private rooms, separated from the exterior walls and suspended in the air. The first floor, which tends to be dark, is entirely open. The pillars and staircases that fell from the upper floors are freely changing in shape and size, depending on which one is perceived as a break in the space. I imagined that a number of parallel worlds would be created there. The private spaces connected by steep stairs and catwalks also have a parallel world relationship.
2020-10-12
←back
Suzuko Yamada Architects, Inc. Tokyo, JAPAN