matsubara

house
2021
/
competition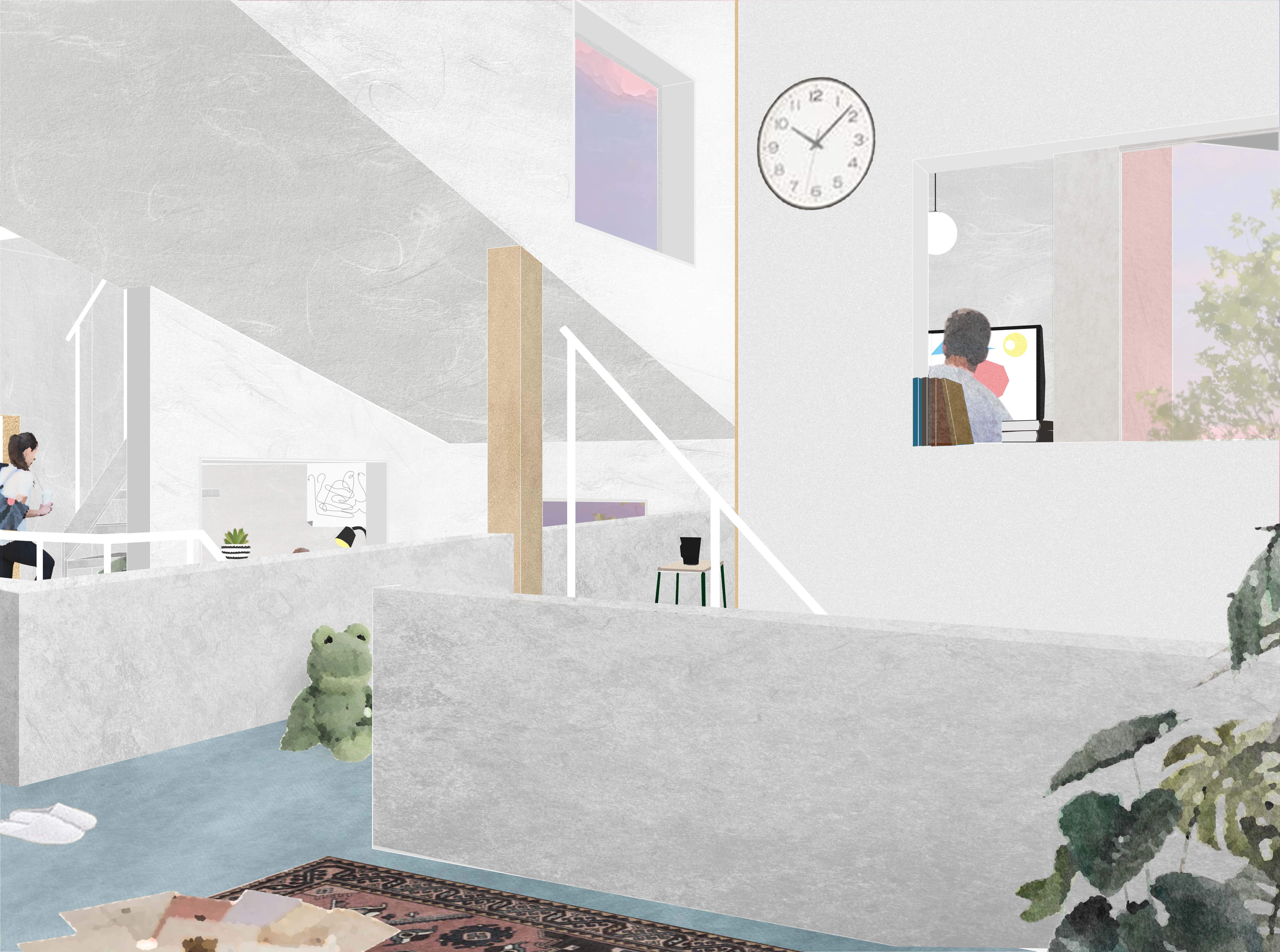 三栄建築設計住宅設計競技2021 審査員賞
都市に浮かぶ

小さな個が都市へとつながる家




都市に住む楽しみが一番感じられる場所は、もしかしたら自分のベッドルームかもしれない。都心の住宅地は日が落ちてしばらくしてからポツポツと明りが灯り、夜更けまで明るい。

その中に浮いている自分の部屋と兄弟の部屋、そして隣の家の部屋。それらの小さな世界が屋根越しに交わる瞬間がある。みんなで住む家だけれど、それぞれの居場所はその奥に押し込められるわけではない。むしろ一番都市と近い位置にある。個として社会へとつながる現代に合った住宅の型式を考えた。

都内で家を買うタイミングと言えば、子供が小さい頃が多いかもしれない。そこから10年、20年と経って、大人が3人もしくは4人になる。それぞれが社会と異なる関係を持っている。その時、玄関は1つで良いだろうか。寝室は小さくても一番快適な場所であるべきではないだろうか。またそこから自分の繋がる場所を眺めることができたら、それは都市に住む自然な在り方なのではないだろうか。家もまた眠らない都市のように。
San-ei architecture design competition 2021 Jury Award
Floating in the City
A house where small individuals connect to the city
Perhaps the best place to feel the pleasure of living in a city is in your own bedroom. In the residential areas of the city center, after the sun goes down for a while, a few lights come on and these are bright until late at night.
My own room, my brother's room, and the room of the house next door are floating in the scenery. There are moments when these small worlds intersect through the
roof. It
is a house where everyone lives together, but each person's place is not confined to their rooms. Rather, these are located closest to the city. I thought of a housing model that fits the modern age, where people are connected directly as individuals to society as individuals.
The time to buy a house in Tokyo is probably when your children are young. Ten or twenty years later, there are three or four adults in the house. Each of them has a different relationship with society. At that time, will one entrance be enough? Shouldn't the bedroom be the smallest but most comfortable place? And if you can see the place you are connected to from there, isn't that a natural way to live in a city? A house is like a city that never sleeps.

2021-12-10
←back
Suzuko Yamada Architects, Inc. Tokyo, JAPAN