Rope House
house
/
exhibition
2013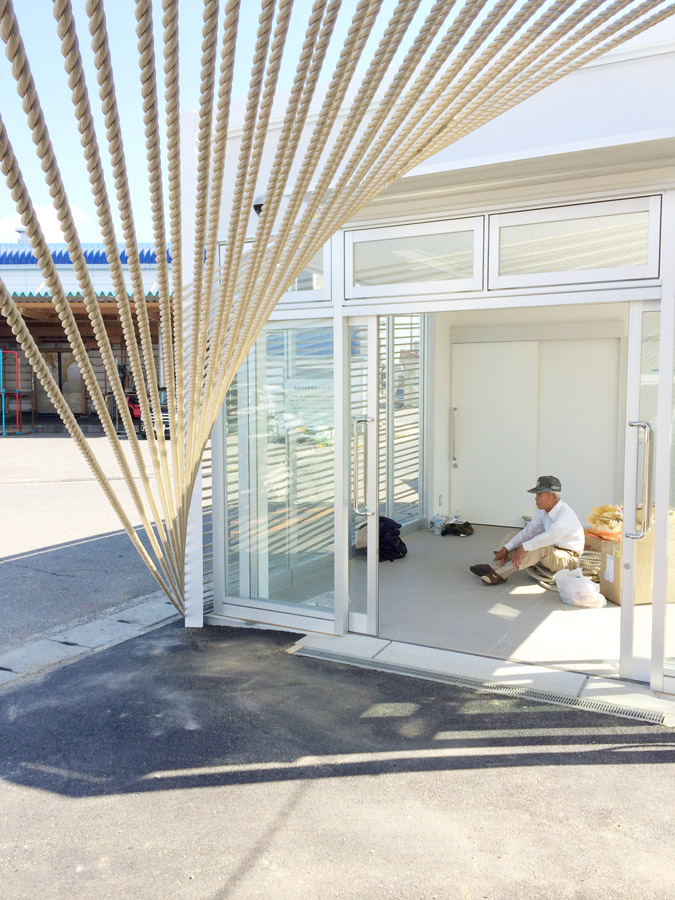 瀬戸内国際芸術祭2013  関連作品 (恒久展示)
香川県三豊市にある須田港は、330人余りの人々が暮らす粟島の玄関口である。その粟島が今年の瀬戸内国際芸術祭の会場となったため、現在使われているフェリー待合室の隣に新しい待合スペースが新設されることになった。細長い三角形の敷地には、新旧の待合室のほかに、駐輪場や三台の自動販売機、浄化槽などが設置されることになり、ほんの少しの余剰スペースで、この待合所全体の空間を豊かにし、港のシンボルとなるような提案が求められた。


建物そのものというよりも、外装と内外のバッファゾーンをつくるようなプロジェクトだったので、一般的な木や金属のような建材ではなく、もう少し物理的にも存在としても柔らかい素材を使いたいと思った。現地を訪れたときに目に留まったロープという素材は、柔らかく、耐久性があり、張り方によって存在感が変化し、その密度によって風景に溶け込んでゆくような使い方ができると思い、ロープによって建築がつくれないだろうかと考えて今回の提案に至った。


ロープを並列に張ることで、遠くから見ると線の集合が、軒や屋根、壁のような面をつくり、待合所の外壁から少し膨らんだような小さな空間をつくる。近づいてみると、それらは1本1本のロープそのものに変わり、ざらざらとした手触りと柔らかさ、工業的な均質性をもった独特の質感を感じることができる。


ロープの集合は敷地とその周辺の混沌とした風景の中に馴染みながらも、一定のリズムで秩序をつくる。見る位置によって透明になったり不透明になったりしながら、待合所の周辺を1つのまとまった空間として再構成し、港に新たな風景を作り出せればと思った。

Setouchi Triennale 2013 (Permanent exhibition)
Suda Port is located in Kagawa Prefecture, JAPAN, where roughly 330 people live. It is also a gateway for people living in Awashima. As Awashima became a venue for this year's Setouchi Arts Festival 2013, the port was planned to have a new waiting area next to the existing ferry waiting room. In the acute triangle strip of land which the waiting room was built on, it needed to fit not only a new waiting area, but also a parking space for bikes, three vending machines, and a sewage tank. A plan to accommodate all necessities in the small space available, yet at the same time making the waiting area an delightful space which can become the port landmark was needed.
Because the project was to create a buffer between the exterior and the interior and not so much to build a new structure, I wanted to use materials which were softer in form and in presence, unlike wood or metal. Rope, which I saw during my initial visit to the site was soft yet durable and changed its character by the way you brace it. It also could be used in a way that would blend into the surrounding view depending on the density of the ropes. This is what led me to propose this plan to create architecture with ropes.
By placing rows of ropes parallel to the ground, from the far, ropes form surfaces which act as eaves, roofs, and walls creating a space slightly inflated from the original exterior of the waiting room. When you move up close, the surface goes back to its rows of ropes, and you can experience the rough texture, soft form and its unique industrial qualities.
The ropes blend in with the area and its chaotic surrounding scenery while creating a rhythmic order. Depending on where you view it from, the space appears transparent and solid while re-grouping the waiting room and its surroundings into one cohesive space. By creating this port house, I hoped to make a new landscape for the port.
Rope canopy connecting the new and old waiting rooms.
A rope roof extending the old waiting room's space under the eaves.
The tightness of the ropes determines the presence of the ropes. The ropes behind the new waiting room are rapped loose to emphasize the presence and physicality of the rope and created a small garden.
The rope house is a permanent structure which will be exhibited throughout and after the Setouchi Art Festival 2016.
←back
Suzuko Yamada Architects, Inc. Tokyo, JAPAN